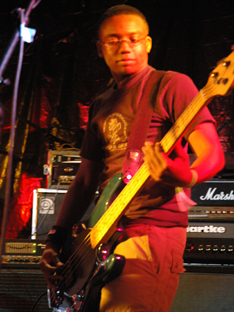 With a variety of musical genres under his belt, Chris has played bass in many bands over the years. He was the last member to join WIV to complete the current line up. Aside from music, he likes to ride motorcycles, read fictional novels, wine tasting, fine dining, hookers and blow - just kidding about the fine dining part.
Favorite color: Blue
Pet Peeve: Someone chewing with their mouth open.
Equipment: Enrnie Ball Musicman Bass, GK800rb Bass Head, Ampeg 4x10 HFL Bass Cab, Ernie Ball Slinky Strings.